I often think of how the world is going to end. Ponder on it for hours, sometimes days at a time. I have realized that everything will truly not end, for even when the human species is dying out and the last human takes their final breath, there will likely be a breed of androids that are laughing and toasting and watching as that very last poor bastard expires in a zoo on network internet mental television. When the universe sees it's demise and it is sucked into a black hole, there will be another universe rotating around it. Life as we don't know it will go on.
There are only an infinite amount of little apocalypses. Personal apocalypses that we create in our own minds. Call it evolution, call it what you will.
This week's apocalypse is my own personal
Datapocalypse
.
When one of my computers (
HP Pavillion a1600n
) died not too long ago, I went right out and bought another p.o.s.
HP
. Nothing special, nothing great, but in the age of cloud computing and browser based everything, I don't need that much power for my unit to stream video, listen to music, browse the internet, etc. So I opened up the new cpu and slapped my old hard drive inside of it, nothing lost. I didn't miss a beat, everything was good in the hood. My beloved 150 gigs of music that I'd collected for some 16 years was all there and still available to me. Exactly 31 days later, I started getting a message that would pop up when I started the computer. 'Emminent Hard Drive Failure. Back up hard drive immediately to avoid loss of data.' Simple enough, follow the steps laid out by Windows 7 and boom, backed up ready to roll. Fucking HP though, I just bought this damn computer and since I was now 31 days past purchase date, couldn't take it back to Best Buy, I'd have to send the hard drive in after it failed.
Still no worries, everything I needed was on the good hard drive that I'd had for over three years now. 1TB three years ago was humongous and now its still plenty big to collect all the music, video and documents that I'll ever conceivably need. The limited amount of data on the new hard drive about to fail was backed up as well so all would be fine the day it finally failed.
Somehow the cpu let me back up the good hard drive onto the bad hard drive and didn't tell me a damn thing. I felt like Bill Withers was singing
Ain't no Sunshine
to me, except I couldn't hear it, it was inside the hard drive, so beautiful, but I heard nothing playing.
All my data is gone! Everything, 150gigs of music, movies, TV shows, documents, scripts, programs, master plans to become rich, everything is GONE!! I scoured the internet for days, bought an external usb to sata connection to try and resuscitate my data from the dead, nothing, nothing works, ALL MY DATA is GONE!!
Before I moved to Los Angeles, I sold all my CDs. I distinctly remember the employees at the
Zia Records
in Tempe filing through my music collection greedily and piling up the albums they would buy before they ever hit the shelves of the store.
"You have a great music collection man, why are you selling it?" When she said it, I winced.
"I'm moving, it's just too much extra weight. Clearing up space." I walked out very sad with $178.36 in cash of an initial $4500 investment.
I told myself that I really didn't care about the actual discs...the photos, the artwork, the lyrics....all that stuff...
Until it was gone. A piece of my identity was lost that day.
Goddamn what do I do now?
Everything is gone. When I open up iTunes now its like a digital graveyard. I see everything I once had that I can now no longer listen to. The first CD I ever bought, A Tribe Called Quest's
Midnight Marauders
....GONE! All I really want to listen to is
Steve Biko (Stir it Up)
Right now.

Man, I can't believe I'm sitting here and have nothing, literally nothing left.
What about Nathaniel Merriweather's
Lovage: Music to Make Love to Your Old Lady By
? One of the most brilliant albums I've ever heard, gone. All I want right now is to hear
Sex (I'm A)
. Please god, give me back my memories of mom cleaning dishes as Madonna's
Material Girl
played, running in the rain while Gnarls Barkley's
Storm Coming
was in my earbuds, Jimi Hendrix's
All Along the Watchtower
when I was smoking herb with that chick in my step dad's shed (topless girls with bongs - this was my idea first!), getting pumped by Redman and Method Man's
Da Rockwilder
before soccer games, Dilated People's
Work the Angles
so many times before seeing them live at Audiotistic 2000, Jurassic 5's
Concrete Schoolyard
on mushrooms in that little apartment my brother had off of Cherry and Speedway down by the Universtiy of Arizona, I remember listening to Busta Rhymes'
Put Your Hands Where My Eyes Can See
in my first car, an '84 Honda Accord smoking bongs on the way to school with my neighbor,
or The Beatles'
Let it Be
when I was coming down off an acid trip, Styles of Beyond w/ Divine Styler's
Killer Instinct
on the way to
PDQ
(that's right I just linked to MySpace!) , Del the Funkee Homosapien's
Catch a Bad One
literally playing when I drove through a yellow light and a kid on rollerblades flew out in front of me in my sweet ass Mazda 323!
(I'll never forget the blood on my brand new pair of Pumas), Chris Rock thought it was bad to smudge his, De la Soul and Mos Def's
Big Brother Beat
while playing bball in my front yard, The Roots
Swept Away
while heading to Marana for a desert kegger, Beastie Boys'
Bobo on the Corner
was literally the song I lost my virginity to, and... Pharcyde's
Passin' Me By
so many times...and maybe never again, Santana's
Black Magic Woman
when I was twelve and was dragged to the Santana concert kicking and screaming by my "lame ass parents" (my first concert) but later got
Abraxas
and ripped it to my collection, The Fugees'
Ready or Not
before Lauren Hill was really crazy or really smart, I'm not sure, or what about the time the I was listening to Cypress Hill's
Hits From da Bong
while rolling along in my '86 Nissan Maxima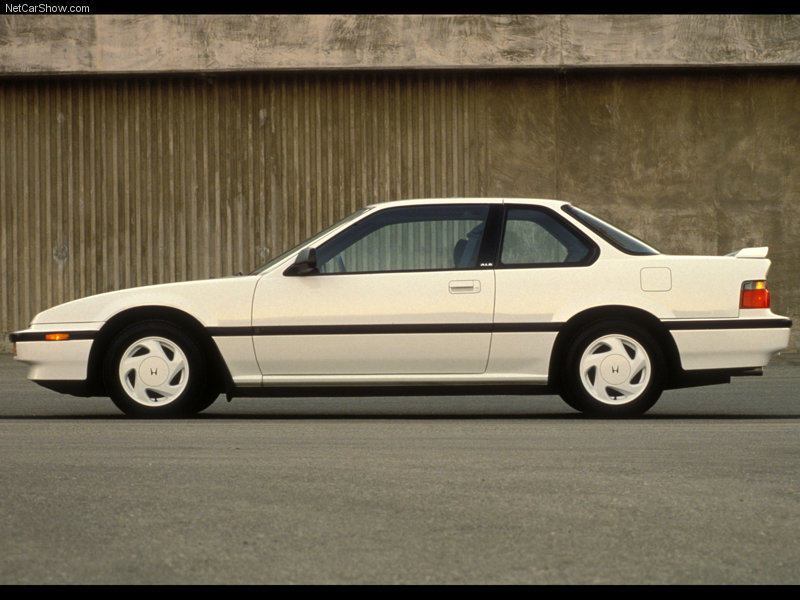 just a few days before I sold it and then the piston popped up out of the block while the new owner was driving it with his family in the car (sorry dude, don't know what you expected for a $500 car, probably wouldn't have been driving babies in that kind of investment), or all those times I would have to pull over and put water in the radiator of my '89 Honda Prelude while I was listening to The Freestylers'
Warning
, oh yeah and the Black Eyed Peas'
Joints & Jams
when they opened up for Eminem at that little weird side stage at the TCC, after I left Tucson for college, I got into some indie rock like Modest Mouse's
The World at Large
and saw them at the Mesa Ampitheatre, The Greenskeepers'
Vagabond
years later when I bought a PS3 to take out some major killing aggression in GTA4, Roni Size's
Snapshot
anytime I jumped in my
1996 Infinity G20 (the first car I actually got a loan for) and lit up a cigarette, or just a year ago listening to Nick 13's
Cupid's Victim
when I moved to Los Angeles and was suddenly single after a six plus year relationship or what about Static X's
Push It
so many years ago when they killed it at the Rialto Theater.
So many memories, tied up in digital ones and zeros hidden information inside a non-functioning device. I can't even begin to start with what I'm forgetting, like Honeycut's
Shadows
or RJD2's
Smoke and Mirrors
or newer stuff like Phantogram's
When I'm Small
or Jamie XX and Gil Scott Heron's
I'll Take Care of You
. What do I do? Do I go see an expert? How much is my past worth? Is it even relevant anymore? Why does technology always eventually fail me?
What will I ever do? I need this music to get through life. I can't go on.
Shit, I remember in the first two damn TAPES I ever bought with my own money; Green Day's
Dookie
and Soundgarden's
Superunknown
, I wore out those tapes listening to
Longview
and
Black Hole Sun
on the way to California on the seventh grade class trip.
I'm rocking out to this shit while the kids on the bus, the suburban whiteys were rocking Tupac's
California Love
and Biggie Smalls'
Hypnotize
. I'm the outcast, my strange alternative and underground hip hop. Then there's Outkast...'with flip flops and socks and sweat pants...here to enhance your brain'.
Wheelz of Steel
changed my life. I bought these albums again years later on CD, what can I do now when I want to listen to them and remember those fleeting moments where my identity was first being molded, sculpted and formed? All that data gone. GONE I tell you!
Data loss. So tragic, if only there was something I could have done. I don't know how I'm going to hear all this music again. I don't have the money to re-buy everything. I'm somewhat opposed to stealing it all back and with the way SOPA, ACTA and PIPA are being thrown around by the government and all I can wish is that I could somehow play Rage Against the Machine's
Killing in the Name
, the last thing I want to do is download anything from the Pirate Bay or megaupload (notice no link here). The FEDS will find you. I don't know if I'll ever be able to listen to the DJ Shadow remix of DJ Krush and The Roots'
Meiso
again!!!
How long will it be before I listen to Beck's
Modern Guilt
again? That's all I can think, 'with these ice caps melting down' How am I going to be able to listen to
Gamma Ray
? I guess I'll just have to wait until TV on the Radio goes on tour again so I can hear Tunde belt out
Staring at the Sun
one more time before the apocalypse hits.
How many times did my stupid computer tell me to back up the data on my hard drive? How many times did I ignore an engine light? Damn you HP, damn you Honda, damn you Mazda, damn you Microsoft, damn you Nissan, damn you Windows 7! It's a conspiracy I tell you, the technology makers have coded failure algorithms into their products! I reached a max level of music storage (miles) that few people have amassed and then suddenly my hard drive (engine) failed. How did I not see it coming? I blame the corporations!
DISABLE EVERYTHING. Disable your computer, unplug it and and turn it off before Big Brother does this to YOU!
Before they kill your data and your history, before it destroys the tapestry of history and information that you have so carefully crafted over the years!!! Before you know it you'll be stranded relying on public transportation i.e. public wifi to access the cloud computing systems!!!
This is a friendly reminder from aPODcalyptic Times to always back up your hard drive and not to buy shitty old cars.
Thank you and don't forget to join us on Ustream Tuesday's at 8:00 pm PST for the latest on the apocalypse.